Latest Reviews
- By
Octavia Spencer and Melissa McCarthy in a movie together was all I needed to know in order to be excited about seeing Thunder Force. Too bad things didn't work out the way I expected. Yes, I knew this offering was billed as an action comedy about superheroes. Unfortunately,...


- By
Move over John Wick, there's a new badass on the cinematic landscape. And his name is Hutch Mansell. Though a seemingly typical suburban dad living on a cul-de-sac with a beautiful wife and two kids – basically a nobody. However, don't take his mild-mannered everyman disposition...


- By
On a list of important people who have almost singlehandedly saved millions of lives, there's one name you've likely never heard of. British businessman turned government agent Greville Wynne is the real life subject of Dominic Cooke's spy thriller called The Courier<...


- By
Yes Day, starring and produced by Jennifer Garner, ends up being a kind of Animal House for kids. Based on a book by Amy Krouse Rosenthal and Tom Lichtenheld, the movie posits that if you give your children one Yes Day – with some limits – they will not mind all the...

Latest Features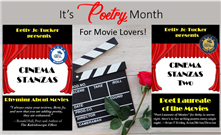 - By
April is National Poetry Month, so I want to take this opportunity to thank everyone who helped me put together my two award-winning Cinema Stanzas E-books. It was such fun writing them for lovers of poetry and cinema! Cinema Stanzas: Rhyming about Movies and Cinema...


By
Because April is Debbie Reynolds' birthday month, I want to share some of my memories about this multi-talented entertainer. She won my admiration from the day I first saw her on screen as boop-boop-a-doop girl Helen Kane in Three Little Words back in 1950. I think...




Grab-Bag Review

The off-putting title and Quentin Tarantino's penchant for hard R-rated films might keep some moviegoers from checking out his new film, Inglourious Basterds. It includes scenes about war, segments about killing Nazi's and...