Latest Reviews
- By
Did Charles Dickens invent Christmas? Of course not -- but he definitely wrote a wonderful Christmas story for the ages. The Man Who Invented Christmas mixes fantasy and reality in a holiday film for the entire family. Dan Stevens delivers an amusing -- but a bit over-the-top at...



By
Racism, class, friendship, brotherhood, and man's relentless struggle against the land come together poetically in filmmaker Dee Rees' Mudbound, the spectacular follow-up to her 2011 debut feature, Pariah. Any thoughts of a lucky first strike with ...



By
Agatha Christie has been a favorite mystery novelist since the 1930s. Her books have been smash hits around the world and have been translated into many languages. Many of Christie's stories have been turned into films. But perhaps Christie's most popular characters have...


- By
As the world's most avid movie musical fan, I'm always excited when a new one gets released. I usually enjoy watching the singing and dancing on screen, even if those two elements overpower the story. So, of course, I was looking forward to Hello Again, a film musical with...

Latest Features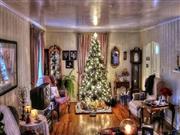 - By
Good news! CAKE: A Love Story, the movie based on It Had To Be Us -- a romantic memoir my husband and I wrote under the pen names of Harry and Elizabeth Lawrence – has won First Place in the Short Film Category at the 2017 NSAEN Online Film Festival....

- By
Below are more soundtrack reviews of recent and archival releases. The 5th Musketeer (Riz Ortolani, 1979) **** According to the Cambridge Online Dictionary, homage refers to "deep respect and often praise shown for a person." Many times throughout...




Grab-Bag Review

The Painted Veil, starring Edward Norton and Naomi Watts and adapted from W. Somerset Maugham's novel -- with added depth by screenwriter Ron Nyswaner -- is a lovely epic that takes place in China during the 1920s....