Ready, Set, Laugh
by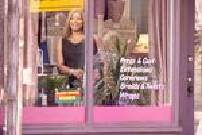 With its top-heavy cast of comedians such as Queen Latifah, Sherri Shepherd and Golden Brooks, it's no surprise that Beauty Shop unfolds with bowls of laughter. What will delight moviegoers even more, however, is that in addition to fun, the movie displays heart, charm and good motivations.
Director Bille Woodruff builds on the theme of a good time in the hood from previous films, Barbershop and Barbershop 2, which starred Queen Latifah. In Beauty Shop, Latifah not only has a producing credit, but again plays stylist Gina Norris.
Gina has left Chicago to start a new life in Atlanta where her daughter Vanessa (Paige Hurd) will attend a prestigious music school. Gina lands a job in a posh salon owned by Jorge, played flamboyantly by Kevin Bacon. When Jorge gets a little too demanding of his girls, Gina in particular, she quits. "Gina can go toe-to-toe with the best of them and take a punch -- but she can give one, too," explained Latifah about her character. "That's what motivates her to keep moving."
Although Gina is upset because she won't be able to afford Vanessa's school, friends finally convince her she should open her own salon. Following their advice, she buys a rundown shop and spruces it up with the help of friends and Joe (Djimon Hounsou), the good-looking electrician who lives upstairs and just happens to play the piano. Hounsou, a quiet soul whose characters exhibited super strength in Gladiator and Amistad , won an Oscar nomination for his role in last year's In America. It's nice to see him stretch his talents as Gina's love interest, a sincere and humble man.
Beauty Shop taps into a wonderful camaraderie of women. The white women like Lynn (Alicia Silverstone), a shampoo girl who leaves Jorge's to work for Gina, and Terri (Andie MacDowell) and Joanne (Mena Suvari), two former customers of Jorge's, get along completely with the shop girls from the hood, Chanel (Golden Brooks) and Ida (Sherri Shepherd).
Silverstone is absolutely perfect as the county bumpkin trying to fit in with a bunch of hood girls, and the more she tries, the harder they laugh. Silverstone said, "She was like, 'This sucks. They don't like me, but they don't know me.' I like that as they get to know her, they like her better."
MacDowell is equally amusing as a patron who follows Gina because she's the only one who can tame her hair. A little intimidated to visit the shop at first, Terri is soon right at home with the girls and picks up some good tips from them about her constantly absent husband. For one hysterical scene about a vendor who sells monkey bread, MacDowell brought her own take on it to the film. "I'm from the South, and I grew up eating soul food," she said. "I love greens. Actually, the "butt thing" was my idea. Sometimes it's the little things… I had a small part so it was great that they liked my idea."
Suvari nails the superficial Joanne, an uppity suburban woman who likes the way Gina cuts her hair and tries to fit in with the shoptalk, but just doesn't get it. Things escalate between her and Lynn, because Joanne has her eyes on Lynn's man and fellow salon stylist James (Bryce Wilson.)
When Gina adds her own changes to the shop, she meets with some resistance from the girls, but behind her all the way is Miss Josephine (Alfre Woodard), a feminist who spouts Maya Angelou poetry and believes in women going after their dreams.
The wonderful cast also includes Keshia Knight Pulliam as Gina's devilish sister-in-law as well as Little JJ, who is topnotch as Willie, a young kid enamored by the women in the shop.
Beauty Shop has it all -- great performances, an empowering story and tons of laughs.
(Released by MGM Pictures and rated "PG-13" for sexual material, language and brief drug references.)
Review also posted at www.reviewexpress.com.