Latest Reviews

- By
OtherLife, an ambitious sci-fi offering directed by Ben C. Lucas, covers a lot of territory. Although the acting and production values in this indepent film earn high marks, a confusing flow of the story seems troublesome. The movie follows the struggles of Ren Amari...


- By
Happy Death Day should have been good. Groundhog Day redone as a teen slasher horror? Are you kidding me? Count me in! The opportunity to watch a miserable prig of a person on the receiving end of the perfect comeuppance... over and over. A circular...


- By
Ridley Scott's Blade Runner feels sacred to me. Before I could read, Scott's film taught me how to love storytelling. So it's no surprise that Denis Villeneuve's follow-up Blade Runner 2049 fails to impress. The latter has to be considered among the slowest, weirdest,...


- By
Oscar-winners Jane Fonda and Robert Redford, who co-starred in Comes a Horseman back in days of yore, pair up beautifully again in Our Souls at Night, a romantic film that makes my heart sing. In this lovely movie directed by Ritesh Batra (The Lunchbox),...

Latest Features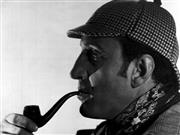 - By
Something is afoot on the Movie Addict HQ "On Demand/Best Of" feature show from October 23-October 29! Sherlock Holmes expert Ed Fitzelle is our special guest. He discusses Sherlock Holmes films as well as actors who have portrayed this fictional master detective created...



By
Opening logo music for The Matrix trilogy has kept pretty consistent on the sound design buzz. Meanwhile, such orchestrations enliven The Matrix Reloaded. Already, there's a sense of jeopardy as though we have entered in medias res, and the...




Grab-Bag Review

Just like the new thriller Open Water probably caused many viewers to think twice about diving in the ocean, Without a Paddle could have a similar effect on guys considering a canoe...