Latest Reviews


By
With numerous outstanding performances in the bag, a Golden Globe in hand, two Oscar nods, and an equal number of Golden Globe nominations, Jessica Chastain is on the precipice of becoming one of Hollywood's sure-fire, go-to actresses for instant box office success, right...


- By
A modern love story filmed in a style reminiscent of glorious classic musicals like Singin' in the Rain and Bandwagon, La La Land emerges as a bittersweet treat for the eyes, the ears and the heart. It takes place in Los Angeles, the city of dreams and heartbreak, where...


- By
There's no right or wrong way to review Nocturnal Animals. That's the challenge posed by Tom Ford's enlightened and tough-going narrative. His film touches upon love, obsession, creativity, regrets, belonging and revenge. These form important building blocks on the pyramid....


- By
One particular scene in Jackie disturbed me greatly. In fact, I wish I hadn't seen it. Jackie Kennedy, who's sitting in the back seat of the car driving President Kennedy during a parade in Dallas, holds her husband's head in her lap while trying to put the flesh pieces shot...

Latest Features

- By
Below are more soundtrack reviews of recent and archival releases. The BFG (John Williams, 2016) **** My initial impressions regarding The BFG by John Williams were not positive. Read the following statement.

MORE >>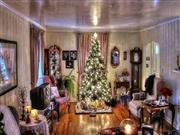 - By
As a special holiday treat on Tuesday, November 29, showbiz stars George and Lizette Bettinger are featured again on Movie Addict Headquarters. They read the first chapter of IT HAD TO BE US, a romantic memoir now being adapted for the screen. They play co-authors...




Grab-Bag Review

"Movie" involves change of some sort. Chronologically even if non-sequentially, i.e., via flashbacks or –forwards, or causally, there is plot development; or perhaps it occurs within the characters, who evolve and whose opinions...