Latest Reviews

- By
Say hello to Kevin Hart, the dramatic actor starring in Fatherhood. Popular comedian Hart shows very little of his usual loud-mouth comic side here as Matt, a man who chooses to raise his baby daughter all by himself. Could this be a turning point for his career? If so, it...


- By
Luca is a delightful animated feature from Disneyís Pixar Animation Studios that revolves around a rebellious13-year-old with a potentially deadly secret. While he has human characteristics when on dry land, he is actually a dreaded sea monster that humans are bent on hunting...


- By
The Hitmanís Wifeís Bodyguard is the most vile, atrocious movie of the year and there are six months to go. Everyone associated with it should be embarrassed for appearing in a film that might put a nail in the coffin of their careers. Maybe we can excuse...


- By
My husband and I watched In the Heights on HBO Max and were awed by this movie version of the Broadway play with stunning music by Lin-Manuel Miranda. Itís the most exuberant musical ever! As a former dancer, the glorious routines choreographed by Christopher Scott (Step Up...


MORE REVIEWS FOR In the Heights



Latest Features

- By
Below are more soundtrack reviews of recent and archival releases. Bird of Paradise (Max Steiner, 1932) **** Most composers who seek to reconstitute Max Steiner's art of film scoring have been known to flounder. Consider Dora and the Lost City...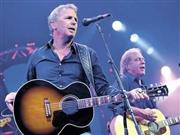 By
Movie Addict Headquarters is happy to present one of our most unusual shows on Tuesday, June 22. Itís a song challenge between Kevin Costner and Meryl Streep. Yes, you read that right! Listeners...




Grab-Bag Review

Reminiscent of those great screwball comedies from the 1930s and 1940s, Christmas in the Clouds charms viewers with its delightful tale of romance, mistaken identities -- and Bingo. Set primarily on a ski...