Latest Reviews

- By
Angelina Jolie has the most prominent cheekbones in Hollywood history in Maleficent: Mistress of Evil. She must have choked on some chicken leg bones that got stuck in her mouth on the way to the set. Most distracting, we say. Other than that, she looks gorgeous, even with...


- By
Antonio Banderas proved he can act by winning the Best Actor award at this year's Cannes Film Festival for his role in director Pedro Almodovar's film Pain and Glory. The world-wide consensus is that it may well be Banderas' best role to date and one that may get him an Oscar®...

- By
High Strung Free Dance simply bowled me over. It's a must-see movie for all dance fans! But in my case, this wonderful film is something quite special. My love of dance began way back when I started walking and has never waned. Also, high on my bucket list is to be involved in...


- By
With all good movies, it's fair to say there's a moment where the narrative and characters synchronize with something in life or philosophy. Although not widely adored upon release, Ang Lee's Gemini Man deserves an audience. The two time Oscar winning director had to wait...


MORE REVIEWS FOR Gemini Man



Latest Features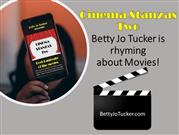 By
Many thanks to British film critic and poet Richard Jack Smith for his lovely video celebrating my new book, CINEMA STANZAS TWO: Poet Laureate of the Movies. What fun to see the opening clips of The Wizard of Oz, Singin' in the Rain and Les Misérables, three...


- By
Because Halloween season is here, I've been thinking about scary horror movies -- and below are five from 2000 to 2005 that fit the bill. Fortunately, they are all available on DVD now. HALLOWEEN: RESURRECTION (2002). "Let the dangertainment...




Grab-Bag Review

"If there's anyone who knows any reason why this movie shouldn't be made, speak now or forever hold your peace." Too bad that issue wasn't raised before The Wedding Planner went into production. But, hey, I'm sure filmmakers...