Latest Reviews


By
Timothée Chalamet will have another monster hit on his hands with his new film Dune, based on the classic book by Frank Herbert. Apparently, director Denis Villeneuve plans this film to be the first of two parts. The current film covers the first half of the book, and the...


- By
Matt Damon, Ben Affleck, and Nicole Holofcener have fashioned an exciting adventure tale from a book by Eric Jager. Allegedly based on a true story, The Last Duel takes place way back in the 1300s, so how much of it is true could be questionable. I'm sure Mr. Jager did...


- By
I am a pushover for revenge movies, so it's no surprise that Turkey's Grudge (sometimes billed as Kin) gets a thumbs-up from me. This intriguing thriller, directed by Turkan Derya, focuses on a character who kills someone in self-defense and then becomes the investigator...



By
As a lifelong fan of Jim Henson's legendary Muppets I felt let down by Muppets Haunted Mansion. Most of Henson's beloved characters barely appear in the film and only sporadically as ghostly apparitions plus in a credit sequence where they all perform "Dancing in The Moonlight...

Latest Features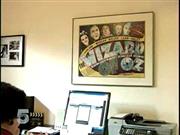 - By
How many times have you read a movie review that consists of only two things – a description of the plot and whether or not the reviewer enjoyed the film? Too many, I'm afraid – especially during this age of almost magical technology. However, because all art forms converge in the...


- By
Back in 2016 my article below won First Place in the Article Section of the AuthorsDen Halloween Spooktacular Writing Contest. I think the five films mentioned here still deserve attention during this spooky season. Because...




Grab-Bag Review

Michael Moore, who evoked considerable controversy with Roger & Me and Bowling for Columbine, stirs the political pot again with Fahrenheit 9/11. Almost everyone on the left adores his new incendiary documentary....