Latest Reviews
- By
I hope there's a sequel. While some films can stand alone, Robert Rodriguez's Alita: Battle Angel deserves a follow-up. Although certain elements strike one as a tease, including the sporadic yet well handled action sequences, the main storyline proves noteworthy. Alita...

- By
Berlin, I Love You, the latest offering in the City of Love franchise, ends up as a mixed bag. However, because three of the ten stories presented touched me deeply -- and the ending pulled everything together so beautifully, I feel the movie is definitely worth seeing. Also, terrific...


- By
Fear the snowplow! Though that's not the central message in Hans Petter Moland's Cold Pursuit, it is certainly a bit of good advice that goes unheeded by a number of hapless victims in this quirky noir thriller that turns the genre on its head with a barrage of wry...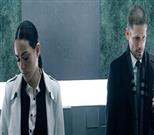 - By
Next to musicals, I love thriller movies. That probably explains why Alfred Hitchcock ranks as my favorite director. And among my list of favorite current filmmakers is Daniel Stamm. His The Last Exorcism actually made the hair on the back of my neck stand on end...

Latest Features

By
Beginning February 18, Movie Addict Headquarters presents a popular On Demand discussion of Guess Who's Coming to Dinner, the 1967 groundbreaking film about parents whose attitudes about race are challenged when their daughter brings home a fiancé who...


- By
On February 12, Movie Addict Headquarters invites you to listen and sing along to some beautiful movie love songs performed by an all-star cast including Debbie Reynolds, Marilyn Monroe, Judy Garland, Mickey Rooney, Bryan Ferry, Rita Graham, Alice Faye, and Lucie Arnaz. The songs...




Grab-Bag Review

Venus, a caustically humorous little film, contains the somewhat grating element that it plays like a tribute and career eulogy to its still-living main star Peter O'Toole. I believe if the main character, an...