Latest Reviews

- By
Whoa! The critics have been all over the place with this movie version of the smash Broadway, Tony-winning, dramatic musical Dear Evan Hansen.! We did not see the stage version, so when it was revealed the plot is about a teen-age suicide and mental health issues, I was...


MORE REVIEWS FOR Dear Evan Hansen




- By
Ankahi Kahaniya means "Untold Stories" -- and this thought-provoking Hindi language film tells three unusual stories about love, loneliness and longing. For full disclosure, I enjoy anthology movies and wish there were more available each year. For some of us, that's the...

- By
What goes on the internet stays there forever, pal!" That sentiment has never rung more true than it does in the new film from writer/director John Pollono called Small Engine Repair. And never before have we seen the consequences of the internet's ornery...


- By
You would think the world didn't need another Cinderella movie. After all, Disney released three animated films about this popular Grimm Brothers fairy tale as well as a live-action Cinderella. And 20th Century Fox gave us Ever After, my favorite starring Drew...

Latest Features

- By
Below are more soundtrack reviews of recent and archival releases. Escape from Alcatraz (Jerry Fielding, 1979) *** Those with avant garde tendencies should study Jerry Fielding's Escape from Alcatraz. Fielding liked to experiment....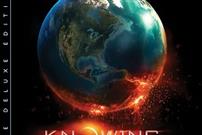 - By
In this article, I will be analyzing the original motion picture soundtrack and the "Deluxe Edition" of Marco Beltrami's Knowing. When Beltrami applies himself well, it's difficult to argue with the results: Mimic and Gods of Egypt being ...




Grab-Bag Review

Some people go to unreasonable lengths to rationalize their romantic failures. Isn't that why astrology and fortune-tellers are so popular? In Someone Like You, lovely Ashley Judd plays one of these misguided individuals....