Latest Reviews
Sneak Preview
- By
So convoluted I lost count of the shortcuts, Inferno makes a bigger blunder: zero excitement. In the beginning of this Dan Brown adaptation, it feels like horror could be on the cards. Yet director Ron Howard quickly bypasses the apocalyptic imagery in favour of a straight...

- By
2012 saw the wildly popular Lee Childs bestselling books come to life on the big screen with Jack Reacher, a film that caught most by surprise with its bad-ass vintage style and tone...

- By
Set in Korea during the 1930s, The Handmaiden serves up a spellbinding tale of love, betrayal and revenge. It's based on "Fingersmith," a novel by Sarah Waters, which was adapted previously as a television mini-series for the BBC. But this time, everything seems much edgier -- and...



By
Though it borrows the title of D.W. Griffith's 1915 silent film, 2016's The Birth of a Nation isn't a remake of that earlier film. In fact, other than the common subject of slavery in mid-nineteenth century America, the two are virtual polar opposites, with...

Latest Features

By
On October 27, Movie Addict Headquarters presents its annual tribute to The Rocky Horror Picture Show. This special episode will feature a discussion of Fox's new remake of that outrageous cult classic and clips of award-winning actor Barry Bostwick's candid...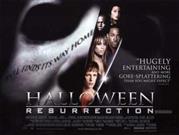 - By
Because Halloween is almost here, I've been thinking about scary horror movies -- and below are five from 2000 to 2005 that came to mind. Fortunately, they are all available on DVD now. HALLOWEEN: RESURRECTION (2002). "Let the dangertainment...




Grab-Bag Review

A show that is really a show Brings cheers when the hero appears And you say as she jumps in the fray That's Xenatainment! (With apologies to Howard...