It Had To Be Us in Anniversary Paperback
by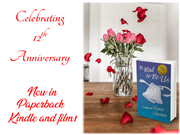 To celebrate the 12th Anniversary of It Had To Be Us, an award-winning Kindle memoir by Harry and Elizabeth Lawrence is now available in paperback format on Amazon. This popular book won first place in the ebook category at the 2006 Hollywood Book Festival and was made into an award-winning short film titled CAKE: A Love Story, which can be seen on YouTube.
In their heartfelt romantic memoir, Harry and Elizabeth (pen names of Betty Jo and Larry Tucker) share their passions and feelings about the poignant events that brought them back together after being divorced and estranged for almost twenty years. Filled with emotion, suspense, and humor --- plus a surprising Las Vegas encounter, this true story proves genuine love can survive any of life's problems. The authors also include an amusing honeymoon revelation plus selected reviews of their favorite romantic movies and several vegetarian recipes (because Elizabeth "can't eat anything that once had a face.")
Below are comments from four readers.
"In this heartwarming and true story, the Lawrences prove that true love really does stand the test of time." --- Missy Andrews, Romantic Times Magazine
"This slender but sturdy novelette offers an extraordinary portrait of the power of love and forgiveness. The Lawrences are an uncommonly intelligent and sincere couple, and following the slow but eventually triumphant story of their rebuilt lives together is a true delight. Their tale packs more of an emotional kiss than many a supersized book." --- Phil Hall, The New York Resident
"I loved it!" --- the late great Debbie Reynolds
"It Had To Be Us is a beautiful and touching tale of how true love can span decades, generations, marriages to other people, and the entirety of a lifetime. This is a story that, however brief, is an awesome saga of two lives brought together that were never really apart." --- Chris Mansel, The Daily Art Source
Publisher: Long Story Short Publishing Company, Inc.
Price: $12.99
Amazon Page Link: https://amzn.to/3LBogDw
Press Contacts:
Denise Cassino at dencassino@gmail.com
Betty Jo Tucker at reeltalk@comcast.net