Easter Parade Tribute Encore
by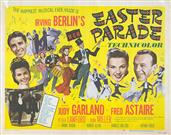 Easter Parade, MGM's glorious 1948 musical starring Judy Garland and Fred Astaire, is sheer entertainment from beginning to end. It's one of the films I enjoy watching over and over again. Humor, star power, fabulous music, incredible dance routines, and a clever show-biz plot combine to make this offering a favorite for fans of movie musicals. Kudos go to director Charles Walters and to writers Frances Goodrich, Albert Hackett, Guy Bolton and Sidney Sheldon for putting together this welcome Easter gift.
Even though Gene Kelly (who suffered an injury before filming) was originally cast in the role opposite Garland because they had been so successful in For Me and My Gal and The Pirate, Garland and Astaire worked similar wonders together as co-stars here. Garland's comedy talent shines in several amusing scenes (watch for how she makes men notice her!), while Astaire's more sophisticated performance makes a good contrast. It's interesting to note that Kelly persuaded Astaire to come out of retirement to play this role.
Fortunately, the wonderful supporting cast members, including gorgeous Ann Miller and handsome Peter Lawford (who sings "Fella with an Umbrella"), are at their best. Plus, the incredible variety of musical numbers in this film adds to its popular appeal.
For example: Fred and Judy dance up a serious storm to "When the Midnight Choo Choo Leaves for Alabam" and then play goofy street urchins in "We're a Couple of Swells." Such different numbers -- and both done with perfection; and Ann Miller performs an ultra-fast tap to "Shaking the Blues Away" as well as a graceful ballroom dance to "It Only Happens When I Dance with You." More perfection.
The film's lush cinematography, fascinating costumes, and witty dialogue also deserve praise. And setting the story in 1912 New York City seems just right for this lively showbiz tale. Of course, Irving Berlin's catchy tunes help considerably.
I also want to mention that "Happy Easter," the opening and closing number, is a colorful -- even painterly -- way to begin and end the story. But oh how it evokes nostalgia for days of yore before social distancing!
No wonder TCM (Turner Classic Movies) always airs Easter Parade during the Easter season. I'm looking forward to it again this year!
Top of their game, Fred and Judy
sing and dance in perfect movie.
"Easter Parade" charms and delights
Lots of fun and other highlights.
Fred picks Judy for new duo,
teaching her what she ought to know
to replace Ann Miller. Oh yikes!
That's not what Judy thought or likes.
But they work hard on their new act.
Dazzling viewers, and that's a fact.
What will the great Ann Miller say?
Will she get in poor Judy's way?
Terrific tunes engulf the screen.
Top performances in each scene.
"Easter Parade" evokes such joy.
It's like a stunning shiny toy!
*****