Memorable Oscar® Moments from the Past
by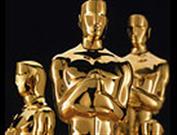 As a confirmed movie addict, I always look forward to the Annual Academy Awards, and this year is no exception. But I have to admit having a love/hate relationship with the results each year. My worst experience was when Grace Kelly won the Best Actress Award for Country Girl. I'm convinced that golden statuette should have gone to Judy Garland for A Star Is Born.
Because the 94th Academy Awards will be given out in a couple of days (March 27), I can't help reminiscing about various memorable moments from the past. So whether good or bad, the following Oscar® moments are my top ten favorites (in no particular order).
2009 – Host Hugh Jackman opening the show with a musical number poking fun at nominated films like Slumdog Millionaire, The Reader and Frost/Nixon.
1974 -- David Niven's impressive composure when a streaker interrupted his comments during the 46th Academy Awards ceremony.
2002 -- Whoopee Goldberg's outrageous costume changes (inspired by nominated films like Moulin Rouge!) while hosting the Oscars.
1985 -- Sally Field's exuberant "You like me!" speech upon winning Best Actress for Places in the Heart.
1999 -- Roberto Benigni running on top of the theater seats to accept his Best Actor award for A Beautiful Life.
1992 – Seventy-three-year-old Jack Palance doing push-ups after being awarded the Best Supporting Oscar for City Slickers.
1964 – Winning Best Actor for Lilies of the Field, Sidney Poitier makes history as the first African-American male to receive an Oscar.
1989 – The dreadful, but great fun to watch, Snow White musical number with Rob Lowe (!).
1997 – Cuba Gooding Jr.'s enthusiastic "I love everybody" acceptance speech after winning Best Supporting Actor for Jerry Maguire.
1973 – Sacheen Littlefeather condemning treatment of Native Americans while accepting Marlon Brando's Best Actor Award for The Godfather.
Honorable Mention: Any of Billy Crystal's movie parody songs from his many Oscar-hosting gigs.