Oscar's Ten Best Picture Nominees
by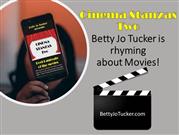 As Poet Laureate of the Movies, I had to write a poem about Oscar's Ten Best Picture nominees that were announced yesterday. Sorry to say my favorites didn't make the list. I was disappointed at the omission of great films like Cyrano, Passing, In the Heights, Lamb, Vivo, The Ice Road, The Harder They Fall, The Tender Bar, and Rita Moreno's wonderful documentary.
We will know which movie wins the precious Golden Statuette on March 27, 2022. In the meantime, Movie Addict Headquarters will be presenting its annual Oscar Predictions Show on Tuesday, March 15, on BlogTalkRadio at 4 p.m. Eastern Time. Film critics Mack Bates and Geoff Roberts have agreed to share their predictions in six key categories, and producer Nikki Starr will be hosting.
Below is my poem.
Ten films are up for Picture Best.
Which one will rise above the rest?
"The Power of the Dog" looks fine,
Though not a favorite of mine.
But "Belfast" boasts an Irish glow,
and stars so many that we know.
Then "West Side Story" filled with dance
won once before, so has a chance
There's "Dune," a sci-fi adventure
with lots of fans, you can be sure.
"Licorice Pizza" don't forget.
Nostalgia bubbles up in it.
A sleeper film like "Coda" could
brighten up every neighborhood.
Emotions soar in "Drive My Car."
"Don't Look Up" scares us from afar.
"King Richard" honors father's plan
for daughters who adore this man.
"Nightmare Alley" a moral treat
with cinematic style to beat.
So pick the winner, if you please.
And congrats to the nominees!