Soundtrack Review: Knowing
by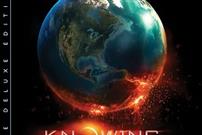 In this article, I will be analyzing the original motion picture soundtrack and the "Deluxe Edition" of Marco Beltrami's Knowing. When Beltrami applies himself well, it's difficult to argue with the results: Mimic and Gods of Egypt being supreme examples of his craft. As of this writing, he has two Academy Award nominations for 3:10 to Yuma as well as The Hurt Locker. He frequently works with Buck Sanders.
Knowing
Original Motion Picture Soundtrack
Release date: March 2009
I can sense when a composer has dedicated considerable thought, time, care and emotional commitment to a project. This felt very apparent during the opening bars of Beltrami's Knowing, and it never lets up. By turns enigmatic and aleatoric -- "Moose on the Loose" seemed uber creepy -- we experience contrasting feelings of horror, warmth and portent. For example, "33" hit me like an electromagnetic pulse. This led directly into "Loudmouth." Curious why these two are not included as one track given the overlap.
Ultimately, drama requires flexibility in musical tone, colour, instrumentation, counterpoint, thematic structure and reverberation. Here Beltrami demonstrates immense skill. By the time I got to "New York," awareness that this was out of the ordinary made me giddy. Therefore, an exciting pulse permeates the score -- ever present, changing shape and meaning, all the while it's a journey worth taking.
With record label Varese Sarabande bringing out Knowing as a "Deluxe Edition," I wonder if the dynamic shall remain or become diminished by padding.
Music of portent
Spreading warmth near chills by us
Lightly and boldly.
Knowing
The Deluxe Edition
Release date: April 2021
Extended periods of soul blackening symphony might not be the most advisable course, even when depicting a potential end for mankind. In the 2009 supernatural thriller Knowing, Beltrami develops a wider spectrum. This encompasses innocence, love, fear, catastrophe, epiphany and awakening. He addresses religious as well as humanistic values. Yet the score's greatest strength involves bringing together different ideas seamlessly.
One could argue the possibilities seem infinite, offering clear melodies about family, friendship and preservation alongside nightmarish visions. In many ways, Knowing illustrates Beltrami's musical design at its most ambitious. For taking chances, while allowing motifs to simmer and plant foundations, he has done extremely well.
Moving on, textures are rarely abrasive, at least for non-horror fans. For example, the subtle string writing during "Revelations By John" could remind people of James Newton Howard and Don Davis. It's a fascinating hybrid. On the one hand, there's Howard and his tender harmonious structure. Then we have Davis' unnerving hammer of palpable tension, demonstrated in The Matrix scores.
Meanwhile, a pleasing symptom from the "Deluxe Edition" arranges chords of empowerment. Fleeting wisps denote sanctity and acceptance, while horror seems present, hovering comfortably at the corners of your imagination. Adding to which, "Nick to NY" was a tour de force, a bold theatrical statement eliminating all complacency.
Crucially, "Loud Mouth" closes Disc 1 on a bandwidth tuned to thunderous action with some horror and suspense. It churns with a fiery confidence and simplicity which makes the experience thought provoking. Attention to detail seems fine. The orchestra hums along at a refined pace, digging out the fireworks from time to time.
Stylistically, "It's the Sun" plays in a similar manner as "The End... or Maybe Not" from Harald Kloser's Alien vs. Predator. There's a rise and fall to the note structure that felt particularly noteworthy.
Creatively, "Door Jam" features plucked strings over a distant counterpoint. Classical by design, this cue grabs the attention via rough minimalism. Eventually, this builds into a flurry which Bernard Herrmann fans might recognise and appreciate.
Then for the piece de resistance: "Caleb Leaves." Almost a mini concert onto itself, the scale and body of feelings felt unlimited. Similarly, "Rollover Beethoven" explores the duality between survival and supremacy. Subtle transitions affect the listener in profound ways. Inevitably, the crescendo laces the material with powerhouse emotional currency. Actually, make that a triple crescendo.
As Beltrami's Knowing leaves much to unpack, its replay value shatters the roof. Indeed, the score functions on multiple levels, such as family drama, suspense thriller, apocalyptic tone poem and horror. His ability to segue between moods at a moment's notice makes this score a rare, yet welcome discovery.
Finally, Varese Sarabande have been on a winning streak regarding their "Deluxe Editions." Expanded soundtracks are supposed to deepen the experience, not prolong it with occasional highlights. So, Knowing joins major league company, including Executive Decision, Paycheck, Along Came a Spider and On Deadly Ground. Viva Varese!
I give Marco Beltrami's Knowing four out of five stars.