Remembering Alfred Hitchcock
by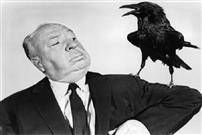 It's August 13th, so I am remembering the Master of Suspense on his birthdate. Alfred Hitchcock is one of my favorite directors. He helmed more than fifty feature films during a career that lasted six decades. Movie Maker Magazine called him "the most influential filmmaker of all time." And, according to Britain's Daily Telegraph, Hitchcock "did more than any other director to shape modern cinema."
Because Hitchcock movies boast twist endings plus thrilling plots filled with violence, murder and crime, most viewers were -- and still are -- captivated while watching them. Add suspenseful psychological and visual elements as well as stylistic presentation, mistaken identity, characters wrongfully accused --and the wow factor definitely kicks in while viewing a Hitchcock film.
My favorite Hitchcock movies are:
VERTIGO
REBECCA
NORTH BY NORTHWEST
THE BIRDS
STRANGERS ON A TRAIN
UNDER CAPRICORN
NOTORIOUS
I love the way Hitchcock makes a short appearance in each of his films. But he had a difficult problem about how to do that in LIFEBOAT. Guess how he solved that? His photo appears in a newspaper floating on the ocean! This proved to me that the Master of Suspense had a sense of humor.