Spotlight on Filmmaker John Hughes
by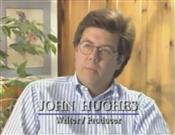 On August 24, Canadian film critic Geoff Roberts will be dropping by Movie Addict HQ to talk about director/screenwriter/producer John Hughes and his remarkable movie career -- including revealing behind-the-scenes information about actors from his films. Roberts has completed in-depth research about Hughes, so movie fans should be pleased with this exclusive interview. Producer Nikki Starr will be hosting.
According to IMDb, Hughes was known for creating "some of the most memorable comedy films of the 1980s and the 1990s, when he was at the height of his career."
Hughes had a talent for writing coming-of-age stories with realistic adolescent characters, but he also was involved with movies like National Lampoon's Vacation.
Hughes directed the following movies. Sixteen Candles, Ferris Bueller's Day Off, The Breakfast Club, Planes, Trains & Automobiles, Curly Sue, Weird Science, She's Having a Baby, and Uncle Buck.
His credits for screenplays include such films as Home Alone, Flubber, Maid in Manhattan, 101 Dalmations, Miracle on 34th Street, Just Visiting, Drillbit Taylor, and Baby's Day Out.
John Hughes died on August 6, 2009. He was 59 years old.
"Spotlight on Filmmaker John Hughes" airs live on Tuesday, August 24 (2021), at 4 p.m. on BlogTalkRadio. An archived segment will also be available.
LISTENING LINK: https://www.blogtalkradio.com/movieaddictheadquarters/2021/08/24/spotlight-on-filmmaker-john-hughes