James Cagney & Yankee Doodle Dandy
by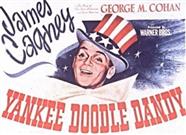 Starting on July 1 and running through the end of July, Movie Addict Headquarters will be airing an encore show that pays tribute to the great James Cagney as well as to Yankee Doodle Dandy, a classic film musical about famous theatrical star George M. Cohan. Joining in the lively discussion are film critics James Colt Harrison, Diana Saenger and A.J. Hakari.
Cagney earned many honors for his on-screen work, but his Oscar-winning performance in Yankee Doodle Dandy is considered one of his best. He did receive two other Oscar nominations. One for Angels with Dirty Faces and the other for Love Me or Leave Me.
He also received: the AFI Life Achievement Award, a Kennedy Center Honor; and the Screen Actors Guild Lifetime Achievement Award. So It's no surprise that the American Film Institute ranked him 8th among the 50 Greatest American Screen Legends.
Some of Cagney's other memorable films are: Mr. Roberts, Ragtime, White Heat, The Public Enemy, Footlight Parade, Tribute to a Bad Man and Man with a Thousand Faces.
Although Cagney is mostly known for his gangster roles, he thought of himself as a song-and-dance man. He started out that way on stage in vaudeville. In fact, he preferred appearing in musicals instead of the tough guy movies that made up most of his film career.
HOST: Betty Jo Tucker
PRODUCER: Nikki Starr
LISTENING LINK: Click here..