Kevin Costner & Meryl Streep Song Challenge
by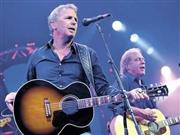 Movie Addict Headquarters is happy to present one of our most unusual shows on Tuesday, June 22. It's a song challenge between Kevin Costner and Meryl Streep. Yes, you read that right!
Listeners will be hearing clips of Meryl and Kevin each singing one tune. However, because Kevin's song is longer than Meryl's, we will play "Meryl Streep Is from the Future" by Afterbirth Monkey, an entertaining Astoria based comedy band.
Then Meryl will sing "You Don't Know Me" from her movie Postcards from the Edge, followed by Kevin belting out "Superman" with his Modern West rock/country band.
There will be no interruptions, just 15 minutes of music, music, music.
Be sure to mark your calendars for this fun show!
"Kevin Costner & Meryl Streep Song Challenge" airs on BlogTalkRadio at 4 p.m. Eastern Time on Tuesday, June 22, 2021. After the live show, an archived segment will be available.
GUEST HOST: Amie Hakari
PRODUCER: Nikki Starr
LISTENING LINK: https://tinyurl.com/bx4234tx