A Lasting Motto
by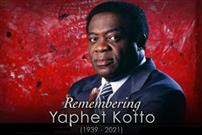 Born Yaphet Frederick Kotto on November 15 1939, he was a major presence in movies, television and theatre. On March 15 2021, he passed away. He's survived by his wife Tessie Sinahon and six children. According to biographical data on the Internet Movie Database, the name Yaphet means "beautiful" in Hebrew.
For Live and Let Die, arguably one of the best James Bond movies, he was cooler than a Miles Davis jazz solo. However, there's genuine camaraderie and chemistry behind his work ethic. He allows his co-stars, especially Jane Seymour, Geoffrey Holder, Julius Harris and Roger Moore their time to shine.
In many ways, he was the secret weapon behind Ridley Scott's Alien. As Parker, the hard working space engineer, he's the first to question their new mission. Yet consider his readiness to slay the extraterrestrial beast following its major reveal or the nervous laughter right after a tense locker room encounter. Even in extreme closeups, he conveys subtleties which read as natural and authentic. By showing bewilderment over the "bonus situation," less money for more work, he's the classic, undervalued working man.
In 1987, he lent his talents to The Running Man, an entertaining futuristic thriller where outlaw men and women are forced to take part in a brutal televised survival show. Although packed with testosterone and memorable characters, Laughlin (Kotto) was easily the most touching as he makes the ultimate sacrifice for his best friend.
Another joyful performance came in the 1988 picture Midnight Run. As Special Agent Alonzo Mosely, he continually runs into bounty hunters Jack (Robert De Niro) and Marvin (John Ashton). He never has to buy his own cigarettes because he keeps taking theirs. On the small screen, it was remarkable how often he would bare his soul. One moment he could be commanding and uncompromising, elsewhere he was tender even thoughtful. As such, Homicide: Life on the Street definitely brought out his finest qualities as a thespian.
In space and beyond, we shall remember him.
A lasting cinematic motto,
Brave, unwavering and honest,
Human keys performed like a pianist.
That's the legacy of Yaphet Kotto
***** .