Alan Menken Wins Again!
by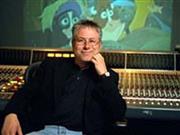 Congratulations to composer Alan Menken on his recent Daytime Emmy Award for "Waiting in the Wings" from Disney Channel's Rapunzel's Tangled Adventure. Menken shares this honor with lyricist Glenn Slater. But for Menken, the award made him the 16th person receiving an Emmy, Grammy, Oscar and Tony – or, in showbiz lingo, to be an EGOT along with other talented entertainers like Rita Moreno, Mel Brooks, Whoopi Goldberg and John Legend.
Menken has eight Oscars to his credit for songs from Beauty and the Beast, Little Mermaid, Pocahontas and Aladdin. In addition to these wins, he earned eleven Grammys for those same movies, and his Tony Award is for the musical Newsies original score.
Because Menken is one of our favorite guests on Movie Addict Headquarters, we are pleased to present his vintage interview ON DEMAND all during the month of August. Menken dropped by a few years ago to discuss the wonderful music he wrote for the movie Enchanted as well as his general experience as a movie composer. That interview is still timely and fun to hear.
Just click on the link below at any time during August (2020). You will be enlightened and entertained by the great Alan Menken!
LISTENING LINK: https://tinyurl.com/y2ou354c
HOST: Betty Jo Tucker
PRODUCER: Nikki Starr