Testing the Waters
by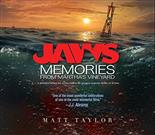 Just when you thought it was safe… to turn the page. Although not the first tome to document the making of the 1975 summer blockbuster, Matt Taylor's Jaws: Memories from Martha's Vineyard offers a nostalgic treat. The archival material here consists of on-set photography, both monochrome and colour, storyboards, memos and first-hand accounts.
Occasionally, the text suffers from a small font size. Some recollections border on the mundane, and I was reminded of similar gossip as Jaws 2: The Making of the Hollywood Sequel by Louis R. Pasano and Michael A. Smith. The latter was a terribly indulgent vanity project which sidestepped the "making of" requirements in order to promote personalities. This had little to do with filmmaking.
Regardless, I give Jaws: Memories from Martha's Vineyard four out of five stars.
A poem:
Bite down on a good read
Jaws: Memories from Martha's Vineyard has what you need.
There's plenty of pictures and text
Whetting one's appetite for what's next.
Only 40% of the production ends up explained
For that I complained.
Although it was a location shoot
Composer John Williams got the boot.
The shark's absence was critical
Making the music more vital.
More to be written about editor Verna Fields
And what a cutting room floor yields.
Still, this book gets a pass
in spite of flaws, alas.
The whole story remains oceanic.
There's more to come, don't panic.