Jane Austen in Today's World
by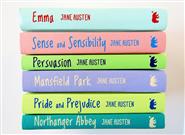 Jane Austen (1775-1817) remains a popular novelist today although her best sellers were written several hundred years ago. She was not a prolific writer, having written only six major works and one unfinished novel. Her completed works are "Sense & Sensibility," (1811), "Pride & Prejudice," (1813), "Mansfield Park," (1814), "Emma," (1815), and the posthumously published "Persuasion,"(1817) and "Northanger Abbey," (1817) and the unfinished "Sandition" (1817). Her novels were modern for the times as she featured ordinary people in their everyday lives.
Not much of her personal life is known, but she did write considerably about the independence of women and their need to marry well for social acceptance. During her life she allegedly wrote thousands of letters to her family. Her evil sister Cassandra destroyed most of them, and the rest of the family tried to sanitize her life lest the family be embarrassed.
Nothing to worry about. Jane was practically a saint and only dallied once with a man named Tom Lefroy for a month in 1795-96. The most scandalous thing they did was dance and sit on the porch. Not very sexy, and that's probably why she didn't write hair-raising porn novels. Poor Jane only lived to the age of 41, having contracted a debilitating illness that did her in at such an early age.
Today's audiences might think a novel written in 1815 would have no relevance, but they would be wrong. Austen's novels have lasted for a couple of hundred years because they are just that---applicable today just as much as they were in her day. Times change, of course, and circumstances may vary. But you get the drift.
The latest Austen motion picture adaptation is Emma, one of the most beautifully filmed movies you will ever see. It opens in Los Angeles and New York on February 21, 2020.
Click here to read my rave review.