Those Were the Days
by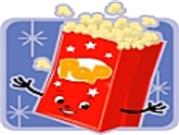 During grade school, my cousins and I spent most of our weekends at the Clyne and Avalon, two Pueblo movie houses located across the street from each other in a working class neighborhood called Bessemer. Both theaters always scheduled a double feature plus "added attractions" which included one cartoon, a serial, film previews, and a newsreel. Wide-eyed, we enjoyed every offering while gorging ourselves on popcorn, Milk Duds, and ice-cream bars.
We especially loved "Popeye" cartoons, Hopalong Cassidy westerns, and "Flash Gordon" serials.
Sometimes we went from one "picture show," which is what we called the theatres then, directly to the other. We were insatiable when it came to movies and goodies. When we were a bit older, we hopped on a streetcar for a bumpy ride to one of the downtown cinemas.
We loved the Chief because of its lavish red and gold interior -- but preferred the Main's more buttery popcorn. The Colorado usually offered a double feature which was hard to resist. And sometimes we stopped off at the Mesa Junction to take in another flick at the Uptown, famous for its Friday "bank night" giveaways.
Reacting to my obsession with film, my mother actually tried to land me a part in a movie. After hearing about MGM's search for a young girl to star in National Velvet, she sent the studio a picture of me on a horse. Unfortunately, that role went to British actress Elizabeth Taylor. Go figure!
(Excerpt from Confessions of a Movie Addict, my award-winning life story with everything but the movie stuff edited out. For more information, click here.)