Emily Blunt's Journey to Major Stardom
by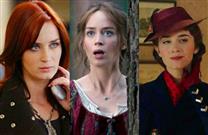 Fans have been in love with Emily Blunt for many years. She was born In London on February 23, 1983. As a young girl, she had problems with stuttering. Blunt thanks one of her teachers for suggesting acting to help with her speech. At age 16, she attended Hurtwood House, a college famed for its performing arts program, where she was discovered by a theatrical agent and signed to a contract. Blunt made her professional stage debut with none other than the doyenne of British Theatre, Dame Judi Dench. The play was Sir Peter Hall's production of "The Royal Family." She received much praise and was selected as "Best Newcomer" by the British newspaper Evening Standard.
Blunt continued to appear in more stage productions and made her television debut in 2003 in Boudica and Henry VIIl. In 2004, the independent British dramatic film My Summer of Love paired Blunt with Natalie Press in a love story between two women. Both actresses shared the British Film Award as "Most Promising Newcomer."
After a few more television and film roles, she was noticed by Hollywood and got her biggest break when cast as Meryl Streep's office assistant in the film, The Devil Wears Prada in 2006. The comedy was a world-wide smash, bringing in almost $400 million at the box office. The film raised Miss Blunt's profile almost immediately. In 2007 she was cast in four more films and continued the following year with two additional pictures. She continued to be cast in such films as Charlie Wilson's War and The Jane Austen Book Club. In 2009, she got the lead in Young Victoria, a film written by Julian Fellowes, and was nominated as Best Actress for a Golden Globe and a Critic's Choice Award for this movie. Subsequently, Blunt was named British Artist of the Year by BAFTA.
In 2011, she co-starred with Matt Damon in the thriller The Adjustment Bureau and received positive reviews for their chemistry in the film. She continued on a steady run of being cast in films such as Salmon Fishing in Yemen with Ewan McGregor and as Miss Piggy's receptionist in The Muppets.The year 2012 saw Blunt appearing opposite Bruce Willis and Joseph Gordon-Levitt in the science fiction thriller Looper and then going on to film Arthur Newman with Colin Firth. She made the hugely popular Edge of Tomorrow with Tom Cruise in 2014, for which she received additional praise as a Special Forces Warrior who defeats extraterrestrials.
Director Rob Marshall created Into the Woods, the film version of Broadway's hit musical from Stephen Sondheim. Co-starring with James Corden, Anna Kendrick, Chris Pine and Meryl Streep, Blunt was cast as the baker's wife. It was another triumph for this talented actress. Sicario, an especially engaging film about the drug cartels in 2015, co-starred Benicio del Toro and Josh Brolin. Blunt was nominated as Best Actress in an Action Movie. Alas, her next film turned out to be a complete bomb, The Huntsman: Winter's War, co-starring Australia's Number One Hunk, Chris Hemsworth in 2016.
Blunt quickly left her last movie in the dust and appeared in the psychological thriller The Girl on the Train in which she starred as an alcoholic divorcee. For this film she was nominated by the Screen Actors Guild and won the BAFTA Award as Best Actress. John Krasinski, Blunt's husband, directed and wrote the horror film A Quiet Place for a 2018 release. Blunt starred in this chiller that went on to become one of the biggest box office successes of the year.
What may prove to be Blunt's biggest hit of all time is Mary Poppins Returns, the 2018 Disney holiday release of the year. Updating the story 25 years, we see Blunt playing Poppins and paying tribute to the original star, Julie Andrews. Blunt creates her own character and does not take away from Miss Andrews' iconic role. The film is a tuneful, happy look at the Banks family in the 1930s -- and Blunt gives us a terrific new Mary Poppins.
*****