Favorite Dancing in Movies ON DEMAND
by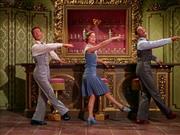 Because May 25th is National Tap Dance Day, Movie Addict Headquarters revisits a lively discussion with avid dance fan/tango expert Fausta Rodriguez Wertz, co-host Jazz Shaw, producer Nikki Starr -- and yours truly, a longtime happy tapper. This ON DEMAND presentation is dedicated to Bill "Bojangles" Robinson, the great tap dancer whose birthday on May 25 is celebrated every year as National Tap Dance Day, having been signed into law by President George W. Bush back in 1989 to celebrate tap dancing as an American art form.
Listeners can hear this popular encore episode any time from May 21 through June 3 by clicking on the BlogTalkRadio link at the end of this article.
I've been a tap dancer during most of my life, so imagine my joy at actually meeting one of the greats during the 100-Year Birthday Celebration of the Hotel Del Coronado in San Diego several years ago. At one point in the evening festivities I noticed a lonely little woman sitting in a corner and went over to keep her company. As I came closer, I thought she looked familiar. When I sat down beside her, I realized she was the legendary Ruby Keeler. "What a coincidence," I said. "I'm taking a tap dancing class, and the instructor showed us 42nd STREET last week. She wanted us to see the best!" Keeler, who was suffering from crippling arthritis, smiled and replied "That's good news! I didn't know people watched my films anymore." After assuring her that she was wrong about that, I enjoyed an intimate conversation with one of filmdom's greatest hoofers – and that's one of my most cherished memories!
This episode features a discussion about favorite dancing in the movies, so tap dancing is included, of course. But you will also hear opinions about other forms of dance such as tango, ballroom and ballet. Which dancers will be named the best by the show's diverse panel? Among the contenders are: Gene Kelly, Cyd Charisse, Gregory Hines, Eleanor Powell, Fred Astaire, the Nicholas Brothers, Ginger Rogers, Debbie Reynolds, Donald O'Connor, Leslie Caron, Ruby Keeler, Vera Ellen, and Christopher Walken.
Some of the films under consideration during this episode include: Footloose, Assassination Tango, The Bandwagon, Seven Brides for Seven Brothers, Singin' in the Rain, Shall We Dance, Billy Elliott, West Side Story, Saturday Night Fever, Dirty Dancing, Take the Lead, Flashdance, Hairspray, Easter Parade and Tap.
HOST: Betty Jo Tucker
CO-HOST: Jazz Shaw
PRODUCER: Nikki Starr
LINK: Click here.