Director and Cast Discuss CAKE: A Love Story
by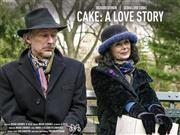 On February 11, Movie Addict Headquarters has scheduled a special Sunday episode to showcase CAKE: A Love Story, the award-winning short film based on It Had To Be Us, a romantic memoir my husband Larry and I wrote under the pen names of Harry and Elizabeth Lawrence.
Misha Zubarev, co-director/writer of the movie plans to reveal why he undertook this particular project and how the film differs from the book. Debra Lord Cooke and Richard Vernon, who play Elizabeth and Harry, have agreed to talk about what it was like bringing these characters to life on screen. Plus, George Bettinger and Nancy Lombardo, who portray Elizabeth's friends, have been invited to join in the discussion. The film's plot focuses on how two people rediscover their lost love after being divorced and estranged from each other for almost 20 years. Although this is a serious theme, the movie includes humor – and, of course, lots of romance!
CAKE: A Love Story earned the following laurels on the 2017 film festival circuit:
First Place in the Short Film category at the NSAEN International Film Festival
Award of Merit from IndieFest (for being "a notable artistic and technical production)
Official Selection by the Toronto International Short Film Festival.
The movie was also voted top spot at a live audience screening of short films in Savannah, Georgia.
CAKE: A Love Story is scheduled for a February 13th release on Amazon Prime, just in time for Valentine's Day!
"Director and Cast Discuss CAKE: A Love Story" airs on BlogTalkRadio at 4 p.m. Eastern Time on Sunday, February 11, 2018. An archived segment will also be available.
To watch CAKE: A Love Story on Amazon Prime click here.
LINK TO LISTEN: Click here.
HOST: Betty Jo Tucker
PRODUCER: Nikki Starr