Sherlock Holmes On Demand
by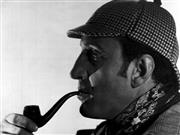 Something is afoot on the Movie Addict HQ "On Demand/Best Of" feature show from October 23-October 29! Sherlock Holmes expert Ed Fitzelle is our special guest. He discusses Sherlock Holmes films as well as actors who have portrayed this fictional master detective created by Sir Arthur Conan Doyle over 120 years ago.
Listeners can hear this popular and informative encore episode any time during the week by clicking on the BlogTalkRadio link at the end of this article.
More than 70 actors have appeared in upwards of 200 cinema projects featuring this popular character. The latest actor signing on as Sherlock was Sir Ian McKellen in Mr. Holmes, a film released in 2015. McKellen added his name to an impressive list including such diverse actors as Basil Rathbone, Jeremy Brett, Charlton Heston, Michael Caine, Christopher Plummer, Nicol Williamson, John Cleese, Douglas Fairbanks, Benedict Cumberbatch, Jonny Lee Miller and Robert Downey, Jr.
Fitzelle's company, EverythingSherlockHolmes.com, is a portal designed to help viewers enjoy Sherlock Holmes. According to Fitzelle, visitors can immerse themselves in movies, TV shows, books, audiobooks and radio shows, or they can sample and learn about the character over time with repeated visits. The site contains 40 hours of moving image content (movies and TV Series) and all of the Canon that is in public domain in audio and print versions. There's also a news section with reports relating to Sherlock as well as an international events calendar focused on Sherlock-related events around the world.
If you're interested in hearing about the history of Sherlock Holmes, from its roots in the pages of mystery periodicals to becoming the most popular entertainment empire of all time, Fitzelle would be happy to arrange a time for you to speak with the Sherlock Holmes experts and entertainment industry veterans at the Everything Sherlock Holmes site.
He believes that visiting his site can help one understand how the character has evolved to become an icon for successive generations, how the Sherlock Holmes stories reshaped the very concept of detective fiction, and what changes lay in store for these major entertainment franchises.
HOST: Betty Jo Tucker
PRODUCER: Nikki Starr
LISTENING LINK: Click here.