Elizabeth Taylor On Demand
by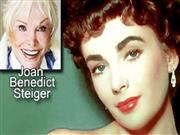 From August 27 through September 3, Movie Addict HQ remembers the great Elizabeth Taylor by featuring an On Demand episode that aired first in 2011. Special guests include actress Joan Benedict Steiger (widow of actor Rod Steiger) and film historian James Colt Harrison. Joan knew Elizabeth and served as her stand-in for Butterfield 8. James, who interviewed Elizabeth, became a fan. He raves, "She's the most beautiful actress ever."
Listeners can hear this popular vintage show at any time during the week by clicking on the BlogTalkRadio link at the end of this article.
During the show, a lively discussion centers on favorite Elizabeth Taylor movies and performances. In addition to Butterfield 8, these films include:
GIANT
NATIONAL VELVET
WHO'S AFRAID OF VIRGINA WOOLF?
ELEPHANT WALK
THE FLINTSTONES
SUDDENLY, LAST SUMMER
CLEOPATRA
FATHER OF THE BRIDE
REFLECTIONS IN A GOLDEN EYE
A DATE WITH JUDY
CYNTHIA
A PLACE IN THE SUN
THE MIRROR CRACKED
A LITTLE NIGHT MUSIC
RAINTREE COUNTY
LITTLE WOMEN
TAMING OF THE SHREW
***
HOST: Betty Jo Tucker
CO-HOST: Jazz Shaw
PRODUCER: Nikki Starr
CHAT WRANGLER: Demos Yannikos
LINK TO LISTEN: Click here.