Score Season #12
by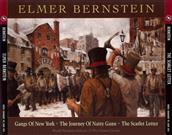 Below are more soundtrack reviews of recent and archival releases.
The Amityville Horror (Lalo Schifrin, 1979) *** Very few horror movies are blessed with Oscar nominations for Best Original Score. One of the luckier ones was Lalo Schifrin's The Amityville Horror. Based on the cracking good novel by Jay Anson, the story concerns a family that were troubled by mysterious goings-on. It's a controversial subject, dividing public opinion. While some believe it was a publicity stunt, others seem less sure. Regarding Schifrin's music, this seems way outside his comfort zone. No stranger to suspense having scored the Mission: Impossible television series, The Amityville Horror demanded extra layers of mystery. The album opens with a childlike lullaby that's lovely or horrifying depending on your point of view. Meanwhile, the weak spot can be heard during "Cold/The Ghost." This largely atmospheric number stews without form prior to more engaging material. Overall, there's a nice flow here. Admittedly, Schifrin takes the obvious route, delivering themes that are eerie as opposed to creative. However, highlights include "Chill," "Town Hall/The Phone" and "The Axe." Even "The Windshield" sent shivers up my neck.
Annabelle: Creation (Benjamin Wallfisch, 2017) **** Evidently, Benjamin Wallfisch's musical talents have flourished. Between Lights Out and Annabelle: Creation, something changed. Because horror music requires being both seminal and unoriginal, the language can be expanded to include some strange distortions. After all, fans expect a certain allegiance to what went before. That way, the new material can sit upon a bed of familiar creepiness. With Wallfisch, the surprise comes as the orchestra descends into hell and we share the ride. When the volume increases, so does our uneasiness. Meanwhile, dense figures group together in a wall of fiendish forces. Perhaps the casual film buff might experience trouble here. However, genre fanatics should expect good things because Annabelle: Creation delivers big time.
On that note, here's a poem:
With Annabelle: Creation
Benjamin Wallfisch scores a sensation.
Horror demands spine-tingling note
Where Lights Out proved rote.
Nothing mundane or generic here
Even the lighter music gave me fear.
Musical talent posits a new notch
Working overtime not to botch.
Stepping away from safety zone
So the critic cannot moan.
Four stars I happily bestow
Sometimes formula works, you know?
Conan the Barbarian (Basil Poledouris, 1982) **** Forgiving some sparse percussion, Conan the Barbarian gets off to a rousing start. For the next twenty minutes, composer Basil Poledouris can do no wrong. In fact, "Atlantean Sword" counts as an all-time favourite. Every time it plays I am transported. It's like destiny calling the lone warrior. Unforgivably, "Wolf Witch" struggles to maintain a moody balance. It's the first sign that this project might get away from Poledouris. Clearly, the highlights warrant a five-star rating. However, some pacing issues and the unimpressive climax reduce the overall impact.
The Dish (Edmund Choi, 2000) ** Only a poem will do:
Pleasant at best
The Dish feels like the rest.
Carrying unoriginal note
Borrowing what John Williams wrote.
Americana for the outback?
Someone should have got the sack.
It doesn't leave an impression.
Still, it's better than depression.
Man Hunt (Alfred Newman, 1941) ** Am I a fan of composer Alfred Newman? Personally, his talents elude me. It's possible to sense craftsmanship during most of Man Hunt. However, there have been some great chair makers throughout history. Can't say I've felt connected to any of them. There's clearly a great deal more to Newman. Right now, I'm waiting for that one score to land, just a singular enterprise that convinces me he deserves such a lofty reputation.
Murder on the Orient Express (Richard Rodney Bennett, 1974) **** Gorgeous… one word to describe listening to Murder on the Orient Express. A lush, symphonic tingle sent happy shivers down my spine. Want to know the best part? I stumbled upon a copy of the soundtrack for 50p. Bargain of the year. So what in the name of Richard Rodney Bennett will composer Patrick Doyle bring to the 2017 remake? Watch this space.
The Seven Samurai (Fumio Hayasaka, 1954) Some scores test the patience, while others make you want to cry. The Seven Samurai composed by Fumio Hayasaka might be somebody's idea of a classic but it's not mine. Only drums during the opening track… really? Soon after, "Samurai Search" offers hope. Can't say I'm overly invigorated by what I'm hearing. Next to Elmer Bernstein's The Magnificent Seven – a project based on Akira Kurosawa's 1954 film -- the result seems pretty tame. As such, Fumio Hayasaka's melodies emerge clean, uncomplicated and free of conquest. Notably, some early chanting no doubt seeking solemnity made it hard for me to keep a straight face. Truly dire!
Stargate (David Arnold, 1994) **** Because he rarely punches us in the gut via the brass section, composer David Arnold can be commended for craft alone. His Stargate score proves to be a charming encounter, sharing similar qualities to John Williams' Close Encounters of the Third Kind. Although one critic complained about the dissonance in "Bomb Assembly," it's a false problem. After all, Arnold does enough creative things with the orchestration to maintain suspense and interest. Actually, my heart sank a little because "Battle at the Pyramid" ends poorly. Around the four minute mark, it would be nice to hear Arnold reprise the uplifting "Mastadge Drag." As written and played, the former builds beautifully but goes nowhere. Elsewhere, cues such as "Ra, The Sun God" and "The Eye of Ra" allow the emphasis to land forcefully. These compositions carry menace that implies extra-terrestrial warmongering. Crucially, Arnold doesn't rely on them for pitch black contrasts. As such, there's variation in abundance here.
The War Wagon (Dimitri Tiomkin, 1967) *** Anybody with a hankering for old timey Western tunes will be pleased by Dimitri Tiomkin's The War Wagon. Joy flows throughout every measure as the Oscar-winning composer dons a fancy rig, saddles his horse and heads for adventurous climes. Frankly, this treatment could be critic proof. Even though the uplifting elements seem familiar, they rarely upset the heart. For all its virtues, "Dust Gag; Ambush" stunned me so much it left little room to feel.
SCORE OF THE MOMENT
Gangs of New York (Elmer Bernstein, 2002) ***** Surpassing expectations, Elmer Bernstein's Gangs of New York could be the leading example of film music transcending the picture. In terms of production history, he spent a year writing the score. Despite covering many bases, he could not see eye to eye with director Martin Scorsese. Ultimately, the latter would incorporate musical cues from many sources, while leaving Bernstein's contribution unheard. Yet Gangs of New York can be enjoyed as standalone music. Art doesn't come much finer. The pacing relative to mood and situation remains peerless. If I'd been sitting in Scorsese's seat, the film would carry Bernstein's music… with pride.
Ending on a rhyme:
To finally hear Gangs of New York
Take a long deserved walk.
Not many of this ilk
The melodies crafted in silk.
Much feels handmade
Modern trends can be staid.
Memorable Bernstein for sure
Finding secret allure.
Prompting us to revisit soon
Even before new moon.
Much to be discovered
Keeping surprises safely tethered.
Can I like the film as much now?
This great score might cause a row.
Accepting them as separate things
They survive on special strings.