Tony Babino On Demand
by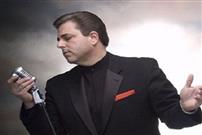 From June 19 through June 25, Movie Addict Headquarters is presenting an ON DEMAND interview with Tony Babino, the acclaimed entertainer/singer/songwriter. Tony discusses his remarkable show biz career, including his uncanny singing impression of Al Jolson. Tony's music can be heard in such films as The Crew, Ice Harvest and Capitalism: A Love Story. He has appeared on stage with stars like Michael J. Fox, Milton Berle and Patti LaBelle – and his off-Broadway debut in Rockstar earned rave reviews.
George Bettinger, host of the popular Mom & Pop Shop radio show, joins in the fun. Listeners can hear this popular interview any time during the week by clicking on the BlogTalkRAdio link at the bottom of this feature article.
Considered one of today's power vocalists, Tony Babino is committed to carrying on the tradition of legendary entertainers with a style and charm uniquely his own. Author Richard Grudens calls Tony "a singing storm who keeps the music going strong --- Sinatra, Bennett, Darin and Jolson, all in one."
Tony has wowed audiences in venues like The Tropicana, The Sands, and Trump's Taj Mahal. He also boasts additional credits in production shows, revues, commercials, radio, television, film and the BIOSHOCK INFINITE video game.
Among Tony's many honors and awards are the following: an Artistic Achievement in Music Award; the Al Jolson Centennial Award; and an Honorary Membership in the International Al Jolson Society.
HOST: Betty Jo Tucker
PRODUCER: Nikki Starr
LINK: Click here.