Romance from Book to Screen
by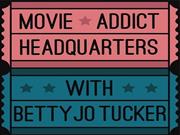 Valentine's Day will soon be here, and Movie Addict Headquarters plans to celebrate early with a special episode scheduled for February 7. Noted actors/comedians/radio hosts George Bettinger and Nancy Lombardo have been invited to drop by for a discussion of their experiences as cast members in the upcoming short film based on It Had To Be Us, the award-winning romantic memoir my husband and I wrote under the pen names of Harry and Elizabeth Lawrence.
Filming of CAKE: A Love Story was completed in late December, and the project is now in postproduction. It co-stars Debra Lord Cooke and Richard Vernon as Elizabeth and Harry. Co-writers/directors Misha Zubarev and Vera Zubarev report that Nancy and George, who portray Elizabeth's friends, kept everyone in stitches on the set. Debra has several films to her credit, including Woody Allen's Café Society. Richard is a musician as well as an actor.
Nancy hosts the hilarious Comedy Concepts show on BlogTalkRadio. She does stand-up comedy and has also appeared in numerous films and on TV's Saturday Night Live. George hosts the very entertaining Mom & Pop Shop show on tune in radio from Miramar, Florida. He has won recognition for his many amusing impressions of such stars as Groucho Marx, Jack Benny, Humphrey Bogart, W.C. Fields and more.
During this episode, a Valentine's Day informational clip about It Had To Be Us -- made by George Bettinger and myself – will also be played.
Listeners are invited to call in during the live show and to participate in a chat. An archived segment will also be available.
This episode airs on BlogTalkRadio at 4 p.m. Eastern Time (1 p.m. Pacific Time) on Tuesday, February 7, 2017.
CALL-IN NUMBER: 646-478-5668
HOST: Betty Jo Tucker
PRODUCER: Nikki Starr
LINK: Click here.