Film Reviews, Creativity & Art
by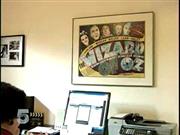 How many times have you read a movie review that consists of only two things – a description of the plot and whether or not the reviewer enjoyed the film? Too many, I'm afraid – especially during this age of almost magical technology. However, because all art forms converge in the movies, shouldn't a film review be an art form of its own? At least it's certainly worth a try. That's why I've decided to share some of my attempts at writing more artistic reviews.
Art knows. Art sees beyond... Art points us in new directions that make us think and question. -- Warren Criswell.
It's only fair to begin with a few brief comments about my general "reviewing" philosophy. I admit to enjoying films primarily for their escapist entertainment value. However, I also look for impressive artistry, a great story, and memorable performances. Because I see so many movies each year, I try to include comparisons of cinematic elements and performances in most of my articles. If the movie reminds me of something in my own life, I think it's important to elaborate on that connection. When writing a review, I like to offer more than an opinion of each movie, so I attempt to give the reader something to think about in terms of what matters in a film, but with a different twist whenever possible.
Art is when things appear rounded. -- Maurice Denis
When people disagree with me about a movie, I want them to have a better understanding of their own values, opinions, and beliefs after reading my review. But most of all, I hope they are enlightened and entertained. I think about which areas I want to emphasize, decide on a "hook" for the opening, and then start writing. The first and last paragraphs are hardest for me, probably because I want them to match up in some kind of coherent manner and I'm not always successful at doing this.
All art is autobiographical -- Frederico Fellini.
In the main body of the piece, I try to cover the film's essence while focusing on what I think matters the most about the movie. Giving away too much about the plot is a no-no and makes for a boring review, so I try to avoid this as much as possible. I also like to add a bit of humor, if appropriate, and some behind-the-scenes information about the film that most readers may not be aware of. In addition, I mention any of my biases as well as incidents from my own life that are relevant to the film.
Art brings imagination to life. – Robert Lee Munoz
It's no doubt that putting your imagination in high gear helps when trying to be creative, as illustrated in the Big Finish below, which includes what you've been waiting for, I'm sure -- six examples of my attempts to write more artistic film reviews.
1. Using language to evoke interesting images.
Example (excerpt from my review of GIRL WITH A PEARL EARRING):
It usually takes time to fully appreciate a great painting. One must view it from different angles, search out its particular shadings and touches of light, its balance of color and form, its emotional impact. The same holds true for this unusual film. Taking time to show viewers the sights and sounds of Delft, Holland, during the mid-1600s, GIRL WITH A PEARL EARRING is like a Vermeer painting come to life…Scarlett Johansson is simply marvelous as Griet. She convinced me completely about the girl's sense of wonder at Vermeer's work. While cleaning the painter's studio, she treats everything there with the reverence of a churchgoer. With her lovely porcelain skin and huge expressive eyes, Johansson looks every bit like someone any artist would want to paint.
2. Writing the review in the form of a mock interview.
Example (excerpt from my review of Robert Benigni's PINOCCHIO):
TUCKER: Thank you, Mr. Pinocchio, for your willingness to be interviewed tonight. It's very courageous of you, especially in light of the bad press garnered by the latest film about you.
PINOCCHIO: Actually, I'm eager to set the record straight concerning all this. To say I'm disappointed is an understatement. Why didn't Mr. Roberto Benigni follow my advice? I wanted someone younger to star in the title role, not the filmmaker himself.
TUCKER: I'm glad you mentioned that. What was Benigni thinking?
PINOCCHIO: I suppose he had in mind the 1996 film, The Adventures of Pinocchio. Young Jonathan Taylor Thomas provided my puppet voice in that one. But the wooden puppet really looked like a boy. Then, when my character came to life, I was played by Thomas himself. No complaints from me there.
TUCKER: That worked for me, too. However, Walt Disney's 1940 animated classic remains my favorite film about you.
PINOCCHIO: I sometimes think Mr. Benigni is an animated creature himself. Remember his exuberant Oscar-acceptance for LIFE IS BEATIFUL?
TUCKER: Who can forget it? Still, his PINOCCHIO does feature some lovely costumes, particularly for the "Blue Fairy" – and it's not one of the worst movies ever made.
PINOCCHIO: Be careful. Your nose is starting to grow longer.
3. Including personal information.
Example (excerpt from my LEGALLY BLONDE review):
Gaining admission to Harvard may be a piece of cake for clever cookie Elle, but being accepted by the faculty and students there presents more of a challenge for her. While not as extreme, I had a similar experience attending my first semester of college in New York City. As the butt of jokes about my western twang, I found it ironic being made fun of by people who said they would meet me "at toity tird and tird" for lunch. Like Elle, my choice of dress also caused amusement among the natives. Of course, she looked gorgeous in her bright colors, high heels, and tight skirts --- whereas my "saddle pants" did nothing for me. But I believe Elle and I represent sisters under all that denim and glitzy silk --- both trying to be taken seriously in a conservative academic world. No wonder I desperately wanted her to succeed.
4. Including a rhyme/poem expressing feelings about the film.
Example (JUST MERCY starring Michael B. Jordan and Jamie Foxx):
On death row, an innocent man
has lost faith that anyone can
help him prove he is not guilty.
All he wants now is just mercy.
From out of town, a lawyer new
studies his case and finds a clue.
Still, prejudice stands in the way.
Racial attitudes hard to sway.
Foxx and Jordan become those two.
Splendid acting these men both do.
"Just Mercy" tells a true story.
It matters, folks. Be sure to see.
5. Using a writing style that matches the film's content.
Example (opening paragraph from my review of ZERO EFFECT, a spoof of private eye movies):
The humidity sticks to my skin like millions of tiny insects on a strip of flypaper. I glance at the clock out of eyes weary and bloodshot from too many nights filled with flickering images in a darkened room. The tick, tick, ticking of that ruthless taskmaster jogs my frazzled thoughts. Slowly, very slowly, I begin to remember . . . this is a movie review, not a private eye novel!
6. Writing a review in the form of a therapy session.
Example (here's the beginning of my GOTHIKA review, which sets up a patient/psychiatrist interaction):
THERAPIST: Are you ready to do serious work on your Penelope Cruz problem today?
ME: If I have to, doctor. Although I sat through GOTHIKA yesterday without laughing at her once, even when she rambled on about cutting up her stepfather "like a ripe fruit in the summertime" -- so I think I'm making progress on my own.
THERAPIST: It's up to you, of course, but you might be repressing your real feelings. Remember your disturbing VANILLA SKY reaction?
ME: Yes. However, at least I stayed awake all during GOTHIKA.
THERAPIST: Good. That's a step in the right direction.
Enough has been said about art already. – Gregori Gillespi
*****