James Cagney Again!
by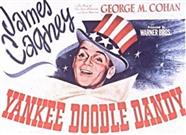 During the entire month of July, Movie Addict Headquarters pays tribute to James Cagney by presenting a vintage episode about his illustrious show biz career. Noted film critics James Colt Harrison, Diane Saenger and A.J. Hakari join in the celebration of Cagney's many movies, including his Oscar-winning performance in Yankee Doodle Dandy. James Cagney Again! will be available ON DEMAND at any time this month by clicking on the BlogTalkRadio link at the end of this article.
Cagney earned numerous honors for his on-screen work. In addition to his Best Actor Academy Award, he garnered two other Oscar nominations – one for Angels with Dirty Faces, the other for Love Me or Leave Me. He also received the AFI Life Achievement Award, a Kennedy Honor and the Screen Actors Guild Lifetime Achievement Award.
It's interesting to note that after Cagney's breakthrough gangster part in The Public Enemy back in the 1930s, many moviegoers had a hard time accepting him in a "good-guy" roles, but it's still not surprising that in 1999 the AFI ranked him EIGHTH among the 50 Greatest American Screen Legends.
Also covered during this lively episode is Cagney's early years as a dancer and entertainer in various live shows. That's important because Cagney always thought of himself as a song and dance man. In fact, his musical movies were the only ones he liked to watch.
HOST: Betty Jo Tucker
PRODUCER: Nikki Starr
LISTENING LINK: https://tinyurl.com/yc29kldj