Zack Ward Interview
by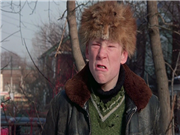 Movie Addict Headquarters is pleased to announce that an archived segment featuring Zack Wardís interview about A Christmas Story is now available for fans to hear at any time.
During this popular interview taped a few years ago, the talented actor/producer -- who played the ferocious red-haired bully in A Christmas Story -- reminisces about his experience filming the beloved 1983 holiday classic that has earned many fans throughout the world.
I think this movie is the best family Christmas comedy of all time. I never get tired of watching it -- and thatís a good thing because itís shown so much on TV around the holidays. Itís a nostalgic gem -- taking us back to the 1940s and showing the magical quality of Christmas for kids back then -- especially for our hero, nine-year-old Ralphie (Peter Billingsly), who makes sure everyone knows he wants a Red Ryder air rifle -- even though heís warned ďYouíll shoot your eye out!Ē In our house, it wouldnít be Christmas without watching A Christmas Story.
Zack Ward has been very busy since his first screen gig as the scary Scut Farkus. Heís appeared in over 80 movies and TV shows, including Transformers, Almost Famous, Warehouse 13, Lost, Deadwood and Crossing Jordan.
It doesn't seem possible, but A Christmas Story celebrated its 35th Anniversary this year!
HOST: Betty Jo Tucker
PRODUCER: Nikki Starr
LINK TO LISTEN: Click here.