Nine Years of Movie Fun Encore
by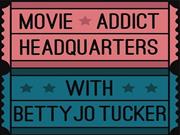 From December 4 through December 10, Movie Addict Headquarters invites you to an On Demand encore of our Ninth Year Anniversary Party featuring clips of famous guests, favorite shows, and other goodies. Among the many fascinating folks to be spotlighted are: William V. Madison (author of Madeline Kahn's biography), Cloris Leachman, George Bettinger, Barry Bostwick, Tanna Frederick, Rita Moreno, Tippi Hedren, Lorna Luft, Lucie Arnaz, Robert Osborne, Richard Jack Smith, Lizette Amado-Bettinger, Nancy Lombardo, Misha Zubarev, Tony Babino, David Spaltro, J Blair Brown, Linda Palmer, Wacko Bob, Chuck Skull, A.J. Hakari, Bill Mesce, Peter Keogh, Phil Hall, Dragon Dronet, Mack Bates, Nell Minow, Debbie Reynolds, Rita Graham, James Colt Harrison, Diana Saenger, Angela Drake-Perry, Morgan Lawrence, Dani Dyer, Richard B. Smart, Judy Joy Jones, Neil Haley, Alan Levy, Jazz Shaw, Nikki Starr and Will Griffiths.
Listeners can hear this episode at any time during the week by clicking on the link at the end of this article.
This encore episode is dedicated to the great Debbie Reynolds -- a dear friend of Movie Addict Headquarters -- and her daughter Carrie Fisher, who both passed away last December.
Mother and daughter passed away.
But brightest stars they'll always stay.
Debbie and Carrie earned a place
in our hearts that can't be erased.
Their talent and wit made them great.
Entertainment became their fate.
Lucky are we who've seen their glow
which now shines on in TIMELESS flow.
LINK TO LISTEN: Click here.