Maureen O'Hara Encore
by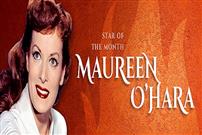 Get ready for St. Patrick's Day by listening to a MAUREEN O'HARA TRIBUTE on Movie Addict Headquarters from March 1 through March 17. During this "On Demand" repeat episode, classic movie experts Diana Saenger and James Colt Harrison discuss their favorite O'Hara films and performances. Saenger is the founder of Classic Movie Guide and Harrison is a film historian who contributes movie commentary to a variety of outlets including Classic Movie Guide and ReelTalk Movie Reviews.
Listen any time by clicking the BlogTalkRadio link at the end of this article.
Brought to Hollywood from Ireland by Charles Laughton during the late 1930s, O'Hara achieved immediate acclaim for her fiery performances in The Hunchback of Notre Dame and Jamaica Inn. She remained a popular box-office draw throughout her long acting career (seven decades!) and played opposite a host of A-list actors, including John Wayne, Tyrone Power, Henry Fonda and Jimmy Stewart. O'Hara appeared in such classic movies as The Quiet Man, Miracle on 34th Street, How Green Was My Valley, The Spanish Main and McClintock.
Because of her beautiful red hair, O'Hara has been called the Queen of Technicolor, and her work in so many Western movies earned her a Golden Boot Award in 1991. She also received an Honorary Oscar from the Academy of Motion Picture Arts and Sciences.
O'Hara displayed a talent for acting as a child and was accepted into Ireland's Abbey Theater at the age of 14. Ironically, her operatic training there seemed wasted in Hollywood. Although she was the number one choice for the lead in The King and I musical, the director didn't want someone who made "all those pirate movies" playing Anna -- so the role went to Deborah Kerr, whose vocals had to be dubbed. Go figure!
Happy St. Patrick's Day, movie fans!
HOST: Betty Jo Tucker
PRODUCER: Nikki Starr
LINK TO LISTEN: Click here.