True Romance from Page to Screen
by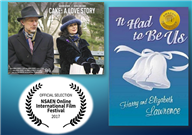 On Tuesday, May 15, Movie Addict Headquarters focused on the remarkable journey of a true romance from page to screen. George Bettinger -- the popular comedian, actor, impressionist and radio host -- has given permission to replay his recent Dream Stream Radio interview with yours truly about how It Had To Be Us -- the romantic memoir my husband and I wrote under the pen names of Harry and Elizabeth Lawrence -- became the inspiration for filmmaker Misha Zubarev's award-winning short film titled CAKE: A Love Story. Included in this fun recorded conversation is actor/musician Richard Vernon's moving rendition of "Remember the Day," Zubarev's original song for the movie.
As an added attraction, a medley of favorite film love songs are played, including:
"You and the Night and the Music" (from The Band Wagon) performed by Lucie Arnaz
"You Made Me Love You" (from The Jazz Singer) belted out by Tony Babino, who sounds just like Al Jolson!
"You'll Never Know" (from Hello, Frisco, Hello) sung by Alice Faye
CAKE: A Love Story, an Ariella Media Production, is available on Amazon Prime. It Had To Be Us, published by Long Story Short Publishing Company, can be ordered from Amazon's Kindle Store.
"True Romance from Page to Screen" aired on BlogTalkRadio at 4 p.m. Eastern Time on Tuesday, May 15, 2018. An archived segment is now available.
HOST: Betty Jo Tucker
PRODUCER: Nikki Starr
LISTENING LINK: Click here.