Morgan Freeman Tribute On Demand
by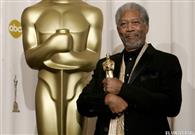 From January 29 through February 4, Movie Addict Headquarters features its popular Morgan Freeman Tribute Show as the latest On Demand/Best Of episode. A panel of noted film critics discuss Freemanís best movies and performances and the reasons for his popularity. Freeman has been nominated for an Academy Award five times Ė Driving Miss Daisy, The Shawshank Redemption, Street Smart, Invictus and Million Dollar Baby (which earned him his Oscar). Among his many other honors are Lifetime Achievement Awards from the American Film Institute (AFI) and the Screen Actors Guild (SAG) Known for his elegance, dignity and velvety voice, this talented actor has appeared in over 100 films/TV shows during his remarkable acting career. His upcoming movies include Angel Has Fallen, The Nutcracker and the Four Realms, and Cold Warriors.
Listeners can hear this encore episode at any time by clicking the BlogTalkRadio link at the end of this article.
In addition to the films mentioned above, here are some of Freeman's other memorable movies:
BRUCE ALMIGHTY
RED
LEAN ON ME
THE MAGIC OF BELLE ISLE
DEEP IMPACT
ALONG CAME A SPIDER
THE SUM OF ALL FEARS
SE7EN
MARCH OF THE PENGUINS
THE BUCKET LIST
10 ITEMS OR LESS
GLORY
UNFORGIVEN
OBLIVION
LAST VEGAS
Whenever Freemanís name appears in the cast, viewers can be fairly certain the movie will be a high quality one!
Panelists include: Diana Saenger, founder of Classic Movie Guide; film historian James Colt Harrison; and Mad Movie Man A.J. Hakari.
HOST: Betty Jo Tucker
PRODUCER: Nikki Starr
LINK TO LISTEN: Click here.