Great Movie Love Songs Sing-a-Long
by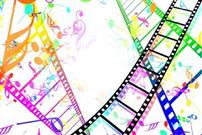 On February 21, Movie Addict Headquarters invites you to sit back, relax and listen to some Great Movie Love Songs performed by an all-star cast including Linda Ronstadt, Marilyn Monroe, Judy Garland, Mickey Rooney, Bryan Ferry, Debbie Reynolds, Rita Graham, Tony Babino, Lucie Arnaz, Alice Faye, and Lily James. The songs have been featured in such popular movies as:
BANDWAGON
WORDS AND MUSIC
TAMMY
CINDERELLA
SNOW WHITE
CASABLANCA
GENTLEMEN PREFER BLONDES
LEAVING LAS VEGAS
WORDS AND MUSIC
THE JAZZ SINGER
HELLO, FRISCO, HELLO
Listeners are encouraged to sing along with the stars. An archived segment will also be available. "Great Movie Love Songs" airs on BlogTalkRadio at 4 p.m. Eastern Time (1 p.m. Pacific Time) on Tuesday, February 21, 2017.
HOST: Betty Jo Tucker
PRODUCER: Nikki Starr
LINK: Click here.