Devin Ratray on 'Courting Condi'
by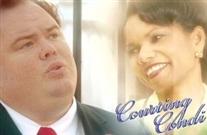 Movie Addict HQ welcomes actor Devin Ratray back to the show on July 24. Devin, who appeared as Buzz McAllister in two Home Alone movies, will discuss his starring role in Courting Condi, cinemaís first musical docu-tragi-comedy. Because reports of Condoleezza Rice being considered as Mitt Romneyís running mate have surfaced, this interview is quite timely! Listeners will also receive an update on Devinís other movies, including Surrogates with Bruce Willis and R.I.P.D with Ryan Reynolds and Jeff Bridges.
Courting Condi, a creative piece of filmmaking written and directed by Sebastian Doggart, follows Devinís campaign to woo and win Condoleeza Rice, his true love. This unique mockumentary presents fascinating information about one of the worldís most powerful women. Opinionated? Yes, but itís also a lot of fun and quite provocative. No wonder it earned considerable acclaim on the festival circuit, including Best Performance for Devin at the Orlando Film Festival, Most Creative Concept at the Fort Lauderdale International Film Festival, Best Comedic Documentary at the Paso Robles Film Festival, and a nomination as Best Comedy Musical at the Mammoth Film Festival.
Devinís acting resume includes several films and television shows. Heís appeared in such movies as Dennis the Menace, Little Monsters, The Prince and Me, Breaking Point, The 2 Bobs, and The Winning Season. Among his television credits are: Supernatural, Heartland, Law & Order: Special Victimís Unit and Damage Control. Devin is also a musician who plays drums, piano, organ and guitar.
Devin Ratrayís interview airs on BlogTalkRadio at 4 p.m. Eastern Time (1 p.m. Pacific Time) on Tuesday, July 24, 2012. Listeners are invited to call in and to participate in a chat. An archived segment will also be available.
CALL-IN NUMBER: 646-478-5668
HOST: Betty Jo Tucker
PRODUCER: Nikki Starr
CO-PRODUCER: Neil Haley
LINK TO LISTEN: Click here.