Hollywood Haunted On Demand
by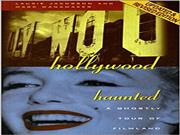 From October 9 through October 15, Movie Addict HQ is featuring an "On Demand/Best Of" episode with celebrated Hollywood author and film historian Laurie Jacobson talking about Hollywood Haunted, her acclaimed book that covers more than 100 years of ghostly goings-on in filmland. Spooky tales about haunted houses hotels, studios and theaters abound in this entertaining exploration of Hollywood hot spots and famous ghost sightings, including such stars as Bela Lugosi, Lucille Ball, Marilyn Monroe, Montgomery Clift and Errol Flynn.
Listeners can hear this popular encore episode by clicking the BlogTalkRadio link at the end of this article.
A former stand-up comic, Laurie worked out in Harvey Lembeck's Comedy Improv Workshop for years with classmates Robin Williams, John Larroquette and John Ritter. While performing with improv groups, Laurie immersed herself in the history of those who came before her. The stories she uncovered during this period became the basis for her debut, archetype book, Hollywood Heartbreak, a 75-year history of Hollywood told through the lives and deaths of 31 people. Following its publication, Laurie emerged as a leading Hollywood historian. Her other books include Dishing Hollywood and Timmy's in the Well – The Jon Provost Story, which celebrates the 50th anniversary of Timmy from the original Lassie TV series.
Laurie, who heads up Living Legends Ltd. -- which represents more than 100 nostalgic celebrities for appearances -- has also written and produced documentaries, television series and specials, including: 20th Anniversary of the Mary Tyler Moore Show, The Museum of Television and Radio's Salute to Funny Women of Television, The Warner Bros. Studio Rededication Party, The Suzanne Somers Show, Photoplay and Hollywood Chronicles. She worked with Jack Haley, Jr. for nine years as head of development.
HOST: Betty Jo Tucker
PRODUCER: Nikki Starr
LINK TO LISTEN: Click here.